EU Directive 2010/40

The use of Intelligent Transport Systems (ITS) and the networking of all modes of transport should make road transport fit for the future in terms of safety, efficiency and the environment.
The European Parliament's Directive 2010/40/EU covers four priority areas:
the optimal use of roads, traffic and travel data
continuity of ITS services in the areas of transport and freight management
ITS applications for road safety and
the link between vehicle and transport infrastructure
The EU directive gives rise to a number of delegated regulations.
Delegated EU regulations have direct impact on the EU Member States. Here is an overview with links to the delegated regulations based on Directive 2010/40/EU.
National Access Point
In order to move towards a Common European Transport Area all transports elements need to be interlinked. The prerequisites for a common digital architecture are open and common standards and interfaces, as well as an efficient and secure data ecosystem. Within the regulation 1926/2017 the commission requests each member state to setup a National Access Point for sharing traffic data. The National Access Points can be a database, data warehouse, data marketplace, repository, register or web portal.
Here you can find a list of the National Access Points across Europe and its status.
What kind of data need to be made available?
Currently the data from the following 3 regulations must be published at the National Access Points: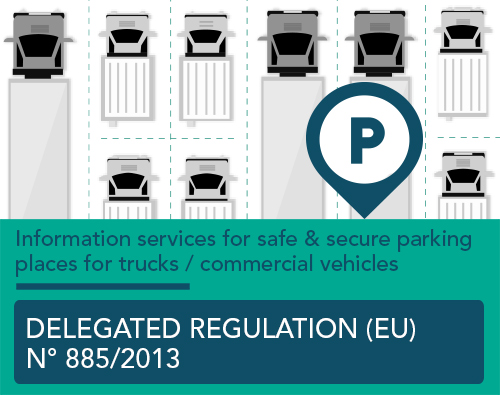 This Regulation contains the following information: Name, address, coordinates of the truck parking, total number of parking spaces, security and service facilities, contact details of the operator.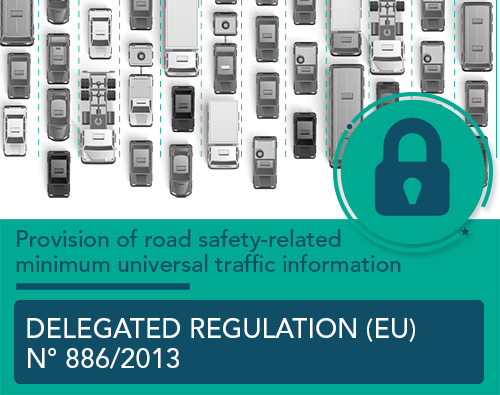 Any European institution or company that has security-related data is obliged to share that data. This would include, for example, data for warnings regarding unsecured accident sites, false drivers, animals/people/obstacles on the roadway, limited visibility or unsignposted road blockages.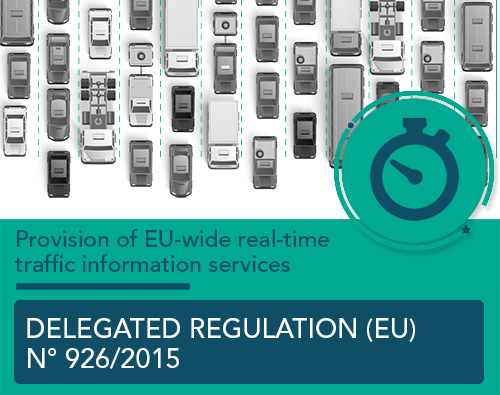 Static street and traffic data
E.g. number of lanes, road geometry, traffic signs including speed limits, traffic plans.
Dynamic road status data
For example, road, paint strip and bridge closures, overtaking bans, construction sites, accidents and disturbances, temporary traffic management measures
The following Regulation 2017/1926 obliges also cities and municipalities to publish their data accordingly:
Delegated Regulation (EU) 1926/2017: Provision of EU-wide multimodal travel information services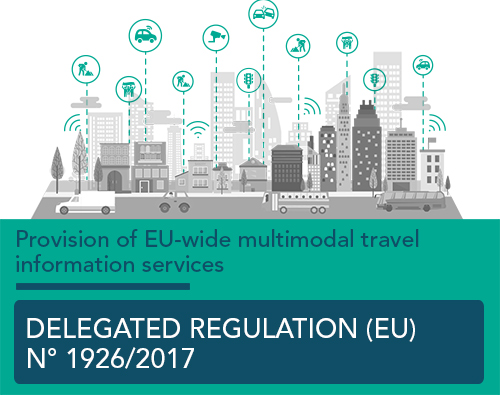 Static travel and traffic data are required as they are essential for informing and planning a trip, such as location search, route plans and route calculation.
Since the integration of dynamic travel and traffic data can involve additional effort, member states can first decide whether to make it available through the National Access Point or not.
The member states are obliged to publish static traffic and travel data at the National Access Point according to the following timeline:
latest until 01.12.2019:

Data according to Annex 1.1 (Service-Level 1) for the comprehensive TEN-T network, e.g.: Location search, address identifiers, topographic places, road and cycle network

latest until 01.12.2020

: Data according to Annex 1.2 (Service-Level 2) for the comprehensive TEN-T network, e.g.: parking facilities, park & ride stops and car/bike sharing stations, refuelling stations, fare network data and trip plans for all scheduled modes

latest until 01.12.2021

: Data according to Annex 1.3 (Service-Level 3) for the comprehensive TEN-T network, e.g.:
Detailed booking information for all scheduled modes and sharing offers, parameters for the calculation of environmental factors (e.g. CO2), estimated travel times by day type and time-band by transport mode/combination of transport modes

latest until 01.12.2023

: All data according to Annex 1.1 - 1.3 for the other parts of the Union transport network. This affects all cities and municipalities.
Sources:
https://eur-lex.europa.eu
https://ec.europa.eu/transport/sites/transport/files/its-national-access-points.pdf
https://ec.europa.eu/transport/themes/its/road/action_plan/nap_en